Dans un Commentaire à mon récent article "Sri Aurobindo sur Santé, Peur et Maladie" (https://labofevolution.wordpress.com/2020/08/05/sri-aurobindo-on-health-fear-and-disease/?fbclid=IwAR3D8EM_1LnJxFGajZA1dSAizOrpDTD9VZHJDPpdv_5R10kp8JbeGriA fjM) mes amis Aurobindoniens d'Amerique, Don Salmon and Jan Maslow, m'ont posé une question dont je pense que j'y répondrai mieux par un nouvel article spécialement pour cela.
Donc, après ma brève réponse immédiate directement dans la section "Commentaires", je copie ici même leur commentaire avec sa question, comme début du plus long texte qui sera ma réponse non seulement pour eux, mais peut-être aussi pour d'autres qui ont pu se poser une question similaire:
"Comme c'est merveilleux que tu sois de retour ici, Bhaga.
Bon, j'ai une question pour toi. Après tous les Aphorismes de Sri Aurobindo tu dis que nous devons faire toutes les choses extérieures dont Sri Aurobindo dit  que'elles ne seraient pas nécessaires si nous avions suffisamment de foi.
En fait, Jan et moi faisons toutes ces choses. Mais nous avons récemment rencontré quelqu'un que nous croyons véritablement éveillé à des niveaux très-très hauts, voyant le Divin en tout, complètement soumis à la  Volonté Divine.
Cette personne ne prend aucune de ces précautions et nous met au défi d'avoir assez confiance en le Divin pour faire de même.
Serions intéressés à entendre ton point de vue là-dessus!

À nouveau, c'est si merveilleux que tu sois de retour."
"C'est vrai, chers amis, à la fin  de cet article j'ai dit en effet de "faire toutes ces choses", voulant dire non pas vraiment comme des "précautions" à vos propres yeux… mais simplement, pour obéir à quoi que ce soit que les autorités dans votre coin du monde veulent que vous fassiez comme mesures sociales  nécessaires, à leurs yeux, pour restreindre le phénomène social, collectif qu'est une épidémie, et plus encore une pandémie.
Dans mon cas personnel le fait est, je dois l'admettre, que comme votre ami moi non plus je ne fais réellement aucune de ces choses. Mais si vous avez lu aussi l'article de moi qui suivait immédiatement celui des citations de Sri Aurobindo, vous avez certainemnt une bonne idée des conditions dans lesquelles j'ai vécu cette pandémie, au moins jusqu'à présent: bien en sécurité chez moi!…
Et cela peut faire une grande différence, pour commencer, comparé aux conditions dont vous avez l'expérience là où vous vivez. Et sont-elles les mêmes que celles de votre ami?…
Nous à Auroville, de manière générale nous ne sommes pas du genre très   discipliné, loin de là, mais parce que nos propres autorités internes nous rappellent gentiment mais constamment que nous devons respecter les lois et règlements de l'Inde dans cette situation comme dans les autres, oui, nous avons fait de gros efforts, et cela, plus probablement une généreuse dose de Grâce Divine, nous a jusqu'ici protégés de toute réelle explosion de la maladie dans Auroville même.
Quant à la recluse presque totale que j'ai été pendant tous ces mois, tout ce terrible drame que les journaux m'envoyaient à la figure chaque fois que j'y jetais un coup d'oeil n'était pas présent du tout dans ma propre réalité, si bien que la peur de ce drame ne me touchait pas non plus. Je n'ai presque jamais eu moi-même à porter le masque requis, ni à me désinfecter les mains – chaque fois qu'il se trouvait que je sortais, c'était d'abord pour moi une surprise, et seulement après je me rappelais "Ah oui, c'est vrai, il y a ce stupide virus…", si bien que j'ai presque totalement échappé à l'impact psychologique massif que toutes ces mesures ont probablement eu sur au moins quelques Auroviliens et bien plus d'autres personnes dans les autres parties de l'Inde et du monde qui ont souffert bien plus et ont eu à faire face de très près à la réalité du virus plus ou moins tout le temps.
Et pourtant, même dans cette atmosphere si protégée tout autour de moi, je me rappelle encore l'unique fois, il y a environ deux mois, quand après plusieurs mois d'apparente absolue Protection, la nouvelle vint bel et bien d'un premier cas à Auroville. Un choc aigu au coeur a percé d'un coup un peu la totale confiance qu'avait eu mon être jusqu'alors. Pour quelques secondes ma foi a été ébranlée par le soudain coup de cette nouvelle et de ce qu'elle signifiait: 'Ça' peut entrer aussi ici!…
Il m'a fallu un moment pour me rétablir de ce choc et retrouver mon équilibre intérieur et mon sens de sécurité.
Quelle leçon pour moi… Quelle révélatrice mesure de ma foi réelle!
Mais même après quelques quarantaines discrètes ici et là, aucune mort n'est jamais survenue à Auroville même à cause du virus.
Avec des cas commençant dans les villages autour d'Auroville, là d'où certains  de nos employés journaliers venaient, à nouveau la menace est devenue plus réelle, car elle se rapprochait.
Entre-temps mon être s'était fait à l'idée que peut-être la maladie allait entrer dans nos vies à nous aussi. Et la réponse alors était venue droit des cellules:
"Eh bien, même si ça arrive à entrer dans ce corps, on arrivera à en guérir!!!'
Pour moi, c'est cela l'essentiel: la réponse des cellules elles-mêmes.
Fait on ne peut plus intéressant, toute la première partie de ce "confinement" avait été à mes yeux béni, je le sentais, par le fait qu'une autre Française, une visiteuse annuelle, depuis lontemps mon élève et devenue mon amie, ne pouvait pas encore rentrer en France, et était confinée à Pondy tout comme je l'étais à Auroville.
Comme nous étions toutes les deux très désireuses de lire (dans la traduction française récemment publiée) les quatre volumes du "Journal du Yoga" de Sri Aurobindo, mais que nous ne pouvions pas nouis rencontrer l'une chez l'autre pour le faire, elle a eu une merveilleuse idée: nous allions d'abord lire séparément pendant quelque temps, et puis nous aurions une longue conversation téléphonique pour partager nos compréhensions et sentiments à propos de tout ce que nous avions pu lire jusque-là.  Et encore, et encore, pendant deux mois,  nous l'avons fait!…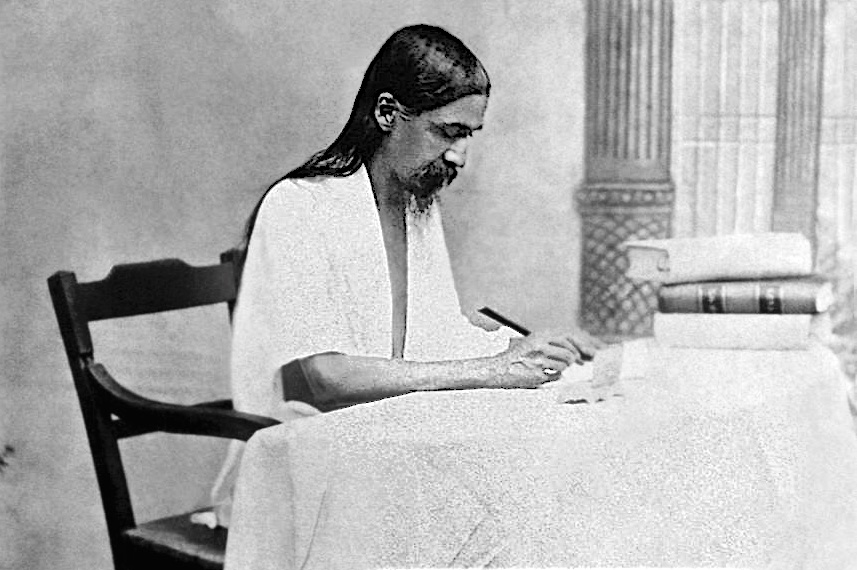 Quel plaisir intérieur partagé! Comme un Séminaire Privé pour nous deux, directement avec Sri Aurobindo!… Ma relative familiarité avec l'original en anglais lu de nmbreuses années avant me permettait de le relire maintenant en français bien plus vite qu'elle, s'y prenant pour la première fois, ne pouvait le faire, si bien que j'ai eu tout le temps de lire et assimiler tout en profondeur dans les quatre volumes et de recommencer, pendant qu'elle atteignait (avec une très belle et fructueuse compréhension) la fin du second volume avant de partir.
Plus important encore, la pleine familiarité que j'avais aussi acquise, dans les années qui avaient suivi, avec "Savitri" d'un côté, et "L'Agenda de Mère" de l'autre, me rendit capable de percevoir (en tant que l'avide chercheur que je suis en plus de la mystique!) une incroyable perspective nouvelle sur l'attitude de Sri Aurobindo et de Mère specialement envers le corps et sa transformation, depuis cette toute première période avant et autour de leur première rencontre en 1914, au cours des années après le retour de Mère pour de bon en 1920, jusqu'à 1927 et un complet changementde la part de la guidance intérieure et des instructions reçues, au sujet specifiquement du corps: ô immense et profonde Joie de voir alors une totale confirmation de tout ce que j'avais fait moi-même spontanément au début (quand mon corps a commencé à s'éveiller), puis compris au fil des années, et plus tard enseigné aux autres personnes intéressées, sur comment le corps devait être traité!…
Tout cela, découvert à travers la lecture approfondie de cet extraordinaire 'Record of Yoga', avec l'intensité si contagieuse des pratiques "à tout casser" de Sri Aurobindo lui-même, pour une intégrale transformation de son être… et à la fin, concernant cet humble corps de Matière, comment les réels changements seraient obtenus aussi, oui, mais sur une approche de plus long-terme,  prenant en considération la conscience propre au corps, avec son lourd fardeau de croyances et d'habitudes subconscientes.
Et nous voilà revenus au point de départ, en ces jours et mois de "pandémie", et à votre question sur comment vous comporter dans cette situation:
Ce que Sri Aurobindo a déclaré au temps de ces "Pensées et Aphorismes" était la Fondation, la Base de Vérité vers laquelle nous avons à retourner à chaque niveau et dans chaque partie de notre être, en l'occurrence notre corps.
Comment appliquer ces Vérités Fondamentales aux situations concrètes, et par chacun pour son propre corps? Dans quelle mesure, comme Sri Aurobindo et Mère le faisaient avant, appliquer encore la Force Supérieure depuis une autre partie de l'être pour protéger le corps, ainsi que votre ami semble le faire et vouloir que les autres le fassent aussi? Dans quelle mesure permettre plutôt à la conscience du corps lui-même de trouver ses propres façons et moyens pour répondre à la menace à travers sa propre relation ou/et identification grandissantes avec le Divin, comme je tends à le faire? Dans quelle mesure prendre encore aussi des "précautions", sous n'importe quelles formes extérieures qui semblent ou sont ressenties comme nécessaire ou utiles, moment après moment, pour le corps?
A vrai dire,je ne pense pas qu'il y ait une réponse unique valable pour tous les cas, comme les vêtements "taille unique"!
Juste comme pour n'importe quel autre aspect de la sadhana pour ce Yoga Intégral de Transformation, Sri Aurobindo lui-même, quand on lui posait des questions, très souvent répondait "Tout dépend…"
Tout dépend de si nombreux facteurs dont chacun de nous est le seul, avec son Guide Intérieur, à avoir connaissance et à pouvoir prendre en considération à chaque moment de sa vie, de façon à prendre la décision intérieure correcte…
Alors, chers amis, et les autres qui peut-être liront ceci, ma réponse sera très simple: c'est à vous de voir, avec votre corps! Ne vous préoccupez pas de ce que les autres font ou ne font pas, suivez simplement chaque fois votre propre sens intérieur de ce qu'il faut faire…  et de toutes façons, n'oubliez pas de toujours appeler l'Aide et la Protection Divines, cela sera ma joyeuse recommendation, car tant qu'on n'est pas pleinement supramentalisé, personne ne sait quand ses propres forces intérieures peuvent soudain lui faire défaut!…
Où que vous soyez intérieurement et extérieurement, je vous souhaite à tous  et à toutes une Joyeuse Continuation, à votre manière unique, de votre Intégrale Transformation – si c'est cela votre But, comme c'est celui de mon corps et le mien…